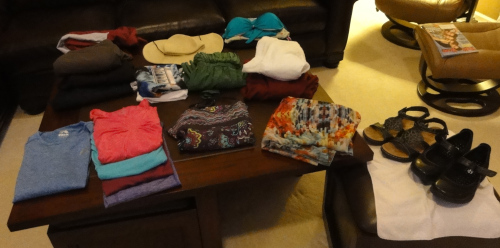 Pack lightly…that is!  I mean take one carry-on bag.  This is surprising, coming from a gal that used to pack a different outfit for everyday and occasion.  Many friends and family members, my mother especially, cannot believe I can pack lightly.  So why do it?
The benefits to traveling lightly for a trip are:  less to carry (it is called luggage), less to keep track of, money saved by not paying for baggage fees, not worrying about losing your luggage, not waiting for it to show up or collecting it damaged, not lugging a bag up and down flights of stairs, and by packing lightly we can have space for souvenirs!
Guidelines for packing lightly:  anticipate using a Laundromat or hand washing items, choose fabrics that dry quickly; choose coordinates and layer your clothing; for just this trip- choose comfort over fashion. (Ladies- that means skipping the cute heels.)
Details:  Where are you going, what is the weather, and what activities are you going to participate?
For this example, let's say you are going to New York City by plane, for a week during the summer.  You will walk the neighborhoods, go to a Broadway Show, go out to eat at a nice restaurant, do some shopping, visit museums, and relax in Central Park.
What to pack in a 22" small carry-on bag?  (Check with airline carrier to confirm acceptable size for carry-on) 
Clothing:
Ladies:
▪    three bottoms, (skort or shorts, capri's, jeans),
▪    three short-sleeve tops,
▪    one dress,
▪    one long sleeve top,
▪    one cardigan,
▪    one linen white long sleeve shirt,
▪    one dressy long scarf,
▪    one pair of sandals,
▪    one pair of walking shoes,
▪    and one pair of flats (also used as slippers),
▪    pj's,
▪    four underwear,
▪    two bras (wear one),
▪    hat (optional)
▪    four pairs of socks or footies
▪    swimsuit (optional),
▪    rain jacket (optional).
Gentlemen:
▪    three bottoms, (shorts, khaki's/dress pants, jeans),
▪    three or four short-sleeve shirts,
▪    one long sleeve shirt,
▪    sportcoat,
▪    one pair of sandals,
▪    one pair of walking shoes,
▪    pj's,
▪    four underwear,
▪    hat (optional),
▪    four pairs of socks,
▪    swimsuit (optional),
▪    rain jacket (optional).
Toiletries + Other Items:
Liquids placed in a quart size ziplock bag- and put in the outside front pocket of carry-on, made easily accessible to go through security.
 Toothbrush/toothpaste/floss
 Face soap
 Face lotion
 Sunglasses
 Small paper notebook/pen
 Small collapsible umbrella
 Shampoo (LUSH sells solid shampoo/conditioner- does not count as a liquid)
 Brush/comb
 Razor/shaving cream
 Sunscreen (small 70 from Neutrogena)
 First aid kit/moleskin/blister kit
 Deodorant
 Nail clippers/emory board
 Hand sanitizer
 OTC remedies (whatever works for you): Pepto, decongestants, immodium, etc.
 Baby powder (small)
 Phone and necessary charger
 Cameras, charger, cords, memory cards
 Tissue pack
 Few plastic ziplock baggies (small and large)
 Small stain remover pen
 Wallet items (money, credit cards, etc.)
Additional Items –if needed or necessary:
 Jewelry (no more than 3 pairs of earrings, keep it simple) / necklace
 Hairclips
 Earplugs (if you use them
 One travel purse
 Hair products
 Makeup & makeup remover
 Vitamins
 Feminine hygiene products
 Prescriptions
 Q-tips
 Lotion (unless at hotel)
 Travel type purse- with many pockets- can be worn across body
 Small gifts from your hometown to give to waiters, hosts, etc.
Wear on the plane:
Jeans/pants, short sleeve shirt, carry yourcardigan (or sportcoat), scarf, and wear your "biggest shoes."
Strategies for packing your one carry-on suitcase:  Roll your clothing (additional tip:  try "packing cubes") stuff socks/underwear in shoes, save room by putting your "non-liquid" toiletries in a separate ziplock/or small case- rather than placing them with your liquids.
Try "Going Lightly"next time you travel!  When you return from your trip, look at everything you packed and make note of what you used. If you didn't use it, don't pack it next time. If there was something you needed and didn't have, think about packing that next time.
Copy and paste the items listed and make yourself a "check-off" packing list to use repeatedly.
Please share your experience with me by e-mailing Wholly Organized at [email protected].
Happy and safe travels!