Many people share with me that their closet "drives them nuts!" What is it about their closet that is so frustrating? Typically they can't see everything they own, so therefore they only wear what they can see. Studies have shown that the 80/20 rule very much applies to clothing: many people wear 20% of their clothing 80% of the time. Typically the 20% of clothing that is worn 80% of the time is clothing that is easily visible. With that thought in mind, mornings can be very stressful for people who do not have a system to optimize their clothing options. We all want to avoid the feeling that "I keep wearing the same thing every day!"
I would like to offer suggestions to make your closet "less nuts" as well as to make all of your wardrobe options more visible. First let's talk about some basics. You are in charge of your closet, right? So you get to choose what earns the valuable real estate in your closet. Before going out to buy any organizing products, first make sure the items in your closet are those you intend to use.
Here are a few questions you may consider asking yourself first:
Do I love wearing the item or find it to be a staple in my wardrobe?
Is it my best color? (Consider getting your colors analyzed)
Is it in good shape? (no tears, pilling, discoloring)
Does it fit my body the way that flatters or that I feel comfortable?
Does it reflect my current style and season of life?
Have I worn the item in the last year or two?
If you answered "yes" to all of the questions, then keep the items. If the answer is "no", then donate items to Goodwill, where they can have a positive impact on our community.
Next, what is the problem that you are trying to solve?
Not enough closet space?
Hanging clothes are cramped?
Can't see what I own?
Don't like the layout?
These Eight Tips will help you solve the above problems:
Slim line Hangers are great because they allow you to fit more in your closet and the clothes stay put on the hangers.

Grundtal towel bar (from IKEA) is a great way to organize your scarves or other accessories…if you can see them, you will wear them!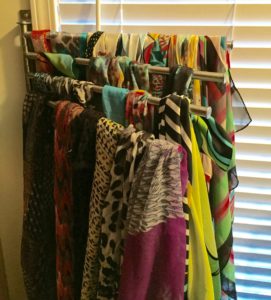 Fold/stack clothing by use (I separate going out jeans from relaxing around the house jeans from work jeans.)
Go vertical with a shoe carousel like this one. Again, it is about seeing your options.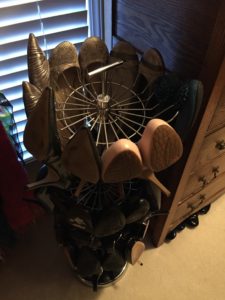 Use command hooks (I like the Command Clear Small Wire Hooks) to hang belts vertically. Put on a wall, back of door, or on closet system.
Line up items (purses) so all items are viewed and used.
Pliio clothing filer to keep shirts visible and neatly folded.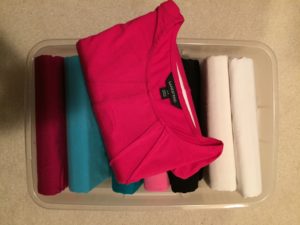 Ladies- hang cami's by color 3-6 per hanger.
All these tips have one thing in common: they have helped to make items more visible. Review your clothing often (at the end or beginning of a season, when you have had a life change or just when you are in the mood). Remember, the less we own the less we have to organize! If you aren't using it, pass it along so someone else can make use of it. Here's to a less cluttered closet and easier mornings!